 
Xuron Round Nose Pliers - Small Tip - 14cm
These Xuron Round nose pliers are a great tool for making loops and shapes in fine wire or small spaces.  They feature a small jaw width allowing you to create small loops.
Secure Payment
We use PayPal as our payment gateway. No account is required, pay with your Debit or Credit card.
Same Day Shipping
Orders placed before 1pm AEST will ship same Business Day.
Next Day Delivery
Pay for Express post for Next Day Delivery
Wire Gauges
Not sure which gauge you need, click here for a comparison table.
Reference

T0202

Description

These pliers are a small round jaw, allowing you to bend, form, grasp and hold wire in small spaces.  They are also great for making small loops.  

The handle on these pliers is a nice feeling rubber that is comfortable to hold and helps provide grip.

The jaw on these pliers is quite narrow compared to other models so please keep this in mind.

Overall Length

14cm

Jaw length

22.5mm

Round Jaw Width

3mm down to 1mm

Note

Images are not actual size and are for illustrative purposes only.
You might also like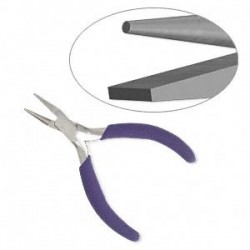 16 other products in the same category: